Nuclear Watch South Challenges MOX Plutonium Accounting in Second Legal Hearing
Controversial MOX Plutonium Program Heavily Scrutinized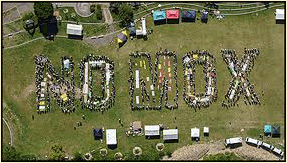 Rockville, MD, 5/22/13: A panel of judges for the Nuclear Regulatory Commission (NRC) convened at NRC headquarters in Rockville, MD, on May 21, 2013, for a second hearing of issues raised by NUCLEAR WATCH SOUTH about inadequate plans for plutonium control and accounting at the controversial MOX plutonium fuel factory under construction at Savannah River Site (SRS).
Dr. Edwin S. Lyman, a senior scientist with Union of Concerned Scientists has flagged several concerns that were accepted by the Atomic Safety & Licensing Board of the NRC after several rounds of argument and deliberation. According to Dr. Lyman, the applicant's proposed plutonium accounting methods are so deeply flawed, the risk of plutonium theft would be increased to an unacceptable level if the MOX factory design is licensed to operate without fundamental changes to material control and accounting plans.
---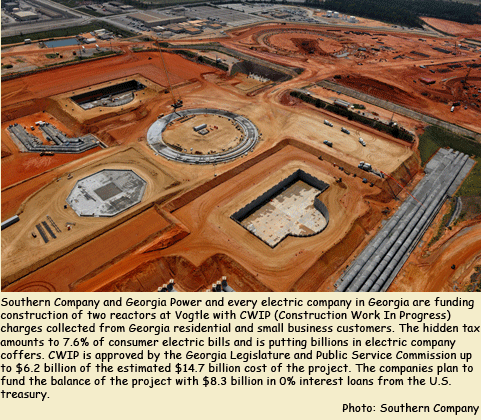 What is CWIP?
CWIP Stands for "Construction Work In Progress"
CWIP stands for Construction Work in Progress and is a statewide corporate nuclear tax that all Georgia residential and small business electricity customers are currently paying on their utility bill.
CWIP is Corporate Welfare
Georgia lawmakers passed the controversial CWIP measure, also known as "Georgia Nuclear Energy Financing Act" in 2009 which made it legal for Georgia Power and Georgia electric companies to force customers to pay upfront for nuclear reactor construction. This is a form of corporate socialism in that the public pays for the project and the corporation reaps the profits. When, and if, the reactors are completed, the companies will charge customers again to use the product for which they already paid.
---
Stop Plant Vogtle marches down Peachtree Street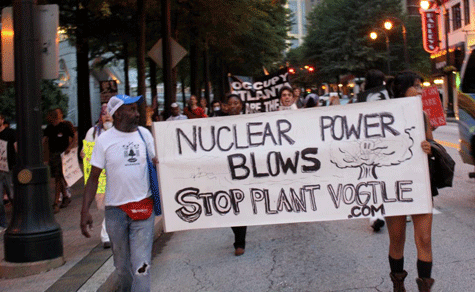 Atlanta, GA 8/28/12: Stop Plant Vogtle campaign was featured in Occupy Atlanta's Tuesday educational march. Hurricane Isaac stopped dumping rain just in time for an evening tour of the Nuclear Regulatory Commission and Georgia Power while handing out fliers to funseekers in downtown Atlanta's tourist district. Of course NUCLEAR WATCH SOUTH was there with hazmat suits and stickers!
---
BONNIE RAITT
STANDING TALL FOR NO NUKES Y'ALL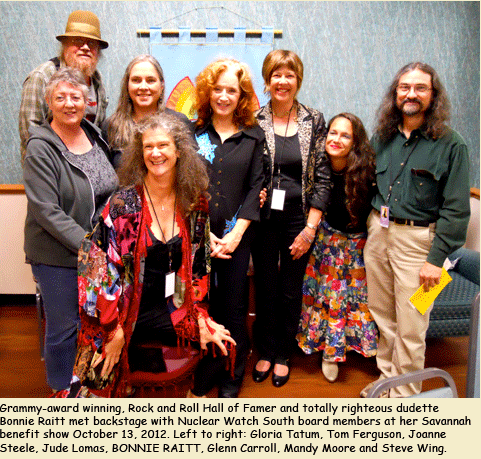 SAVANNAH 10/13/12: Bonnie Raitt put her award-winning SLIPSTREAM tour in support of work to stop U.S. nuclear expansion. In Savannah, Georgia her show benefited NUCLEAR WATCH SOUTH, Alliance for Nuclear Accountability, and South Carolina Sierra Club. NUCLEAR WATCH SOUTH came out in force and launched the Stop CWIP Campaign. We are eternally grateful to Bonnie for a lifetime of commitment to making the world a better place through music and personal activism. Guacamole Fund and Musicians United for Safe Energy produced the green tour. LONG MAY YOU ROCK!!!
---
Vogtle and Nukes on IF YOU LOVE THIS PLANET

APRIL 13, 2012: This week on IF YOU LOVE THIS PLANET
Dr. Helen Caldicott interviews long-time antinuclear activist Glenn Carroll, coordinator of Nuclear Watch South, headquartered in Atlanta, GA. Carroll has been committed to grass roots direct action for 25 years, ever since the 1986 Chernobyl meltdown in Russia inspired her to join efforts to stop Vogtle 1 and 2, a nuclear power plant in Waynesboro, Georgia. In this conversation with Dr. Caldicott, Carroll explains the danger posed by the Vogtle 3 and 4 reactors approved for construction at the Vogtle facility, and how utility company Georgia Power and the Nuclear Regulatory Commission are overriding concerns about the environment and human health in order to built the first new nuclear power plants in the U.S. in several decades.
---
Georgia Power Stuck in a Nuclear Jam
Nuclear Watch South coordinator guest blogs at GA WAND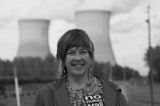 ATLANTA 5/25/12: Everybody except for Georgia is jumping on the wind and solar bandwagon, but Georgia Power is side-lined in a nuclear jam like a horse-buggy manufacturer at the dawning of the Ford assembly line.
Solar and wind are setting records in output and lower costs. Technological breakthroughs in collection and storage of wind and solar have been developed and deployed at such a rapid clip that renewable energy sources are now contributing more electricity to the grid, at lower cost, than nuclear. The historic shift has analysts now harking the coming day when wind and solar will undercut King Coal as well.
---
COME ON IN! We're ramping it UP!
Power my future with clean energy, PLEASE!
NEW REPORT


SNAPSHOT OF
RENEWABLE ENERGY DEPLOYMENT
by Matthew Johnson
Environment and Energy Study Institute
January 2011


BE PART OF THE SOLUTION! Help lead the way from dirty coal and unsafe nuclear to a future powered by harvesting the sun and wind. Start by KNOWING ABOUT IT! Here are some good resources to help us figure out how to create a clean energy future for our planet:
---
Nuclear Weapons on a Highway near You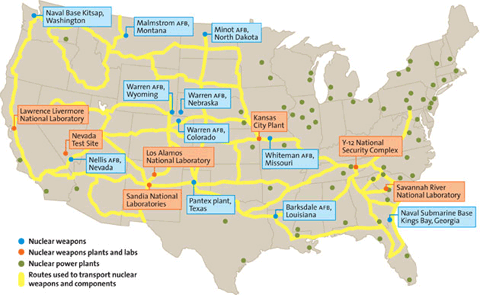 Read about Nuclear Watch South in MOTHER JONES
---
FUKUSHIMA | V0GTLE
Day of Remembrance and Warning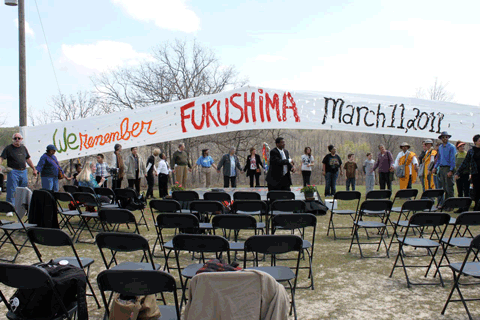 On March 11, 2011 the world's eyes were on Japan as the devastating earthquake and tsunami triggered the Fukushima nuclear disaster, the worst in history.
On March 11, 2012, the world's eyes are also on Georgia where Georgia Power has received a license to build the first two nuclear reactors in the U.S. in 38 years. These reactors would be built at Plant Vogtle in Burke County 40 miles south of Augusta on the Savannah River.
100 people gathered at the Fairfield Missionary Baptist Church in beautiful Burke County to remember the victims of Fukushima and gather strength to stop two new reactors from being added to the two which are already there.
Shoji Kihara from Hiroshima turned down the opportunity to address 10,000 people in Japan in order to be present with us in Georgia. He said that the fate of Vogtle will be powerful influence on the fate of nuclear power.
---
Nuclear Watch South joins legal opposition to license for two new reactors in Georgia
Groups contend that NRC failed to fully consider Fukushima lessons before issuing license to construct and operate two new nuclear reactors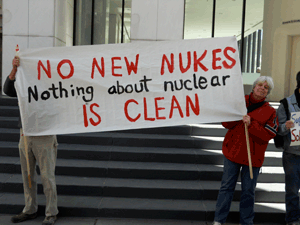 2/17/12: ATLANTA, GA The Nuclear Regulatory Commission (NRC) voted 4-1 on February 9, 2012, to issue the final license for two new reactors at the site of the currently operating Vogtle nuclear power plant in Georgia. NRC Chairman Gregory Jaczko cast the only dissenting vote, effectively agreeing with nine national, state and regional groups who will file a challenge in federal court.
A major legal challenge has been filed charging the NRC with violating federal law to issue the license without considering the important lessons of the catastrophic Fukushima accident in Japan and regarding the ways the Vogtle operation should be modified to protect public safety and the environment. The groups are asking federal judges to order the NRC to prepare a new environmental impact statement (EIS) for the proposed Vogtle reactors that explains how cooling systems for the reactors and spent fuel storage pools will be upgraded to protect against earthquakes, flooding and prolonged loss of electric power to the site. The EIS must also detail how emergency equipment and plans for the nuclear plant will be revised to account for accidents affecting multiple reactors on the Vogtle site, as happened at Fukushima.